Top-Notch Wood Windows for Your Home
Wood is always a great option for windows. It brings a warm, classic look to any home. However, wood is susceptible to damage and requires intensive maintenance over time. Fortunately, there is a product that provides the appeal of wood alongside the outstanding durability and low maintenance requirements of modern window frame materials: Aluminum-clad wood windows from Pella®. Additionally, Pella aluminum-clad wood windows come in a variety of configurations, colors, and functional options to suit your preferences and existing aesthetics.
With decades of industry experience, Kennedy Windows & Doors is the ultimate Pella-certified contractor. We make replacing your windows with top-notch wood options easy and stress-free. When you need new wood windows for your home in the Monmouth County and Ocean County, New Jersey, areas, rely on us.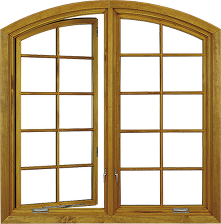 Enjoy Unparalleled Beauty and Functionality
Pella offers three distinct series of aluminum-clad wood windows:
Pella® Lifestyle Series combines the charming appearance of wood with the unmatched performance of Low-E triple-pane glass.
Pella® The Architect Series retains historic charm with its beautiful and traditional appearance.
Pella® Reserve Series features timeless elements along with industry-leading modern technology.
Pella® Lifestyle Series
The Lifestyle Series features wood windows designed with homeowners in mind. These windows can make your home more functional, comfortable, and stylish thanks to their:
Superior energy efficiency – With their triple-pane, low-emissivity (low-E) glass, the windows included in the Lifestyle series provide peak thermal performance. The low-E technology reduces the amount of ultraviolet and infrared light that passes through the glass, which improves the energy efficiency of your home while also protecting your furniture and floors from sun damage.
Outside noise reduction – The triple-pane glass also has the effect of reducing noise infiltration from outdoors, making your home an oasis from the sounds of traffic, construction, or rowdy neighbors.
Customizable style – There's no need to compromise beauty for performance—these windows come with gorgeous natural wood types as well as customizable shapes and sizes.
Pella® Architect Series
For the endearing appeal of authentic wood, exclusively designed finishing touches, and top-notch home security, the Architect Series is the best choice. The wood windows in this series were built to stand the test of time, so you can be sure you're making a wise investment.
Pella® Reserve Series
If you're drawn to the charm of the past but don't want to compromise modern functionality, the Reserve Series was made for you. Thanks to their historic elements, these wood windows are often approved for projects with historic tax credits. They retain timeless beauty with their:
Putty profiles
Individual windowpanes
Expansive glass
Meticulous details
Trusted Platinum Pella® Certified Contractor
Pella® is extremely reputable and offers some of the highest quality windows on the market, and Kennedy Windows & Doors is proud to be a Platinum Pella® Certified Contractor. We'll work with you every step of the way to ensure you get the exact wood windows you need. With industry expertise and exceptional customer service, you can count on us to get the job done right.
Contact Us Today and Receive a Free Estimate!
If you're interested in top-quality wood windows for your home, trust Kennedy Windows & Doors. We proudly serve the Monmouth County and Ocean County, NJ, areas. For more information or to schedule a consultation, contact us today. We offer a variety of financing options to help make your project as convenient as possible.
Contact Us